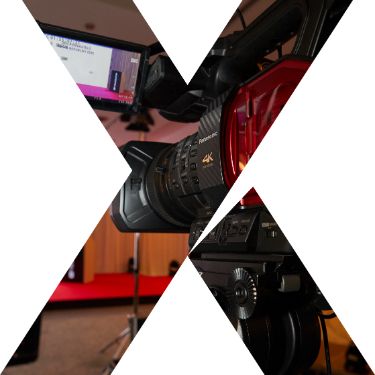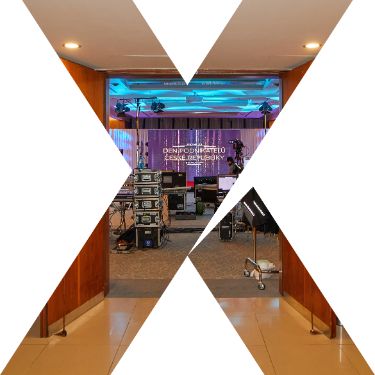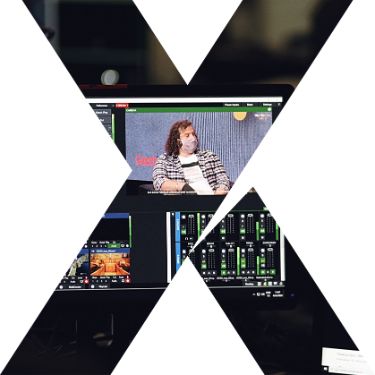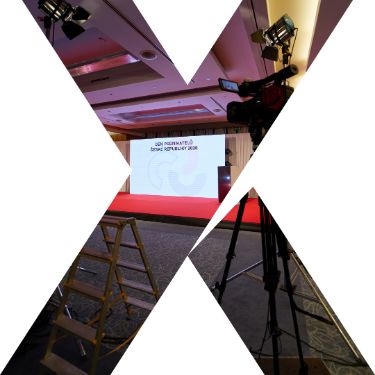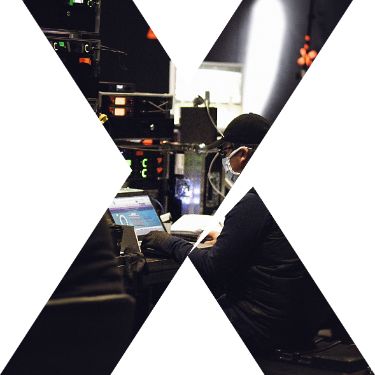 Direction equipment post setup for the online and hybrid event

Good mood by safety first precautions of the Online Event sound engineer

High-quality cameras used for professional online event organisation

Covid tests and single-use gloves during Online Event organisation

Online event host is getting ready for the online and hybrid event

Testing the broadcast quality of an online event

Professionally organised Online event rehearsal

Online event technicians at work during the broadcast

Technical direction image of the professional online event
We are a professional organizer of Online and Hybrid events
By combining many years of our experience in EVENT ORGANISATION of many types and modern technological capabilities, we offer you CONNECTION of people from your company, from their home office and from all over the world in a fully customizable VIRTUAL ENVIRONMENT. In cooperation with us you can organize online conferences, presentation of new products, services and MANY OTHER EVENTS that will engage and enrich the participants. We will help you organize a breathtaking VIRTUAL CONFERENCE that brings results or turn your live streaming into a full-scale online experience with engaging COMMUNICATION OF KEY MESSAGE. We offer studios with a neutral green background, an attractive LED wall, or the use of 360-degree cameras for a sense of virtual reality .
Our EVENT MANAGER will help you with event concept settings and will be your main assistant BEFORE, DURING, BUT ALSO AFTER event. For each of our events we also prepare metrics for measuring benefits based on participant feedback, which enables is to accurately measure the RETURN on investment.
We offer our

own studio to be used

We will create Content and communication

for you

We will help

you

from

presentations

to

the choice of

hosts

We utilize

the best

of technology

according

to your needs
We actively involve the participants themselves through interactions

We

accurately

measure

the

event

feedback

We only work

with

secured

connection

for

participants

from anywhere

We

achieve cost-

effective

solutions
Our clients stand behind us: Our Google reviews for Maxin PRAGUE and our subsidiary teambuilding brand Catalyst Czech Republic
Skvela spoluprace, prijemny kolektiv a profesionalni pristup!
V čase lockdownů a home-officů jsme hledali možnost, jak s týmem on-line bojovat proti trudnomyslnosti. Hra Cesta kolem světa byla přesně to, co jsme hledali. Určitě vyzkoušíme i další. Děkujeme týmu Catalyst za perfektní přípravu, profesionální vedení hry a zábavné odpoledne.
Naše společnost každoročně pořádá bujarý vánoční večírek, ale současná korona krize nám překazila plány, proto jsme přemýšleli, jakou společnou aktivitou zakončit rok. Obrátili jsme se na společnost CATALYST CZECH REPUBLIC a udělali jsme dobře :-). Naše zaměstnance jsme potěšili online teambuildingovou vánoční hrou, kterou hráli z bezpečí svých kanceláří nebo domovů a skvěle připravenou hru si náležitě užili. Taktéž komunikace s poskytovatelem hry byla na jedničku a už nyní se těšíme na další podobnou aktivitu od CATALYST CZECH REPUBLIC.
We were very satisfied with the services, thank you.
Great experience from the very first contact till the very end. We as Generali CEE Holding were preparing for the first time in our history a 3D conference for 350 participants from 10 CEE countries. Thanks to Catalyst we made it and it was a big success. We very appreciate the professional way of preparing the event, huge flexibility and permanent availability of the Catalyst team head by Jakub Škorík. Thank you very much and we are looking forward to the next common event!
Catalyst team responds quickly to requirements, very quickly find an adequate solution and quickly adapt to needs ( we had 10 business units with different IT constraints and they managed to aligned all ).
My company had a chance to play online game "Digital Global Innovation Game", everything was very smooth and clear. The game was super fun and overall we did enjoy the time. Communication with the "Maxin Prague" was fast, pleasant and absolutely without problem. Ms. Monika Vodickova, who was our leader during the game was very nice, friendly and professional. Thank you again!
Great experience with Maxin / Catalyst during the Covid time. We prepared together an on-line game for 140 participants from 10 countries of Generali CEE Holding. Big fun and very positive feed- back from players. Looking forward to the next game in summer!!!
Very professional and funny team: they adapted to our need for our team building and made something out of it.The team was very helpful, giving plenty of advice and being fully part of the game.I definitely recommend them!
We had a fantastic organized trip to Prague with the team of Maxin Prague. They managed everything in a perfect way and we had no problems at all with the schedule. They really know how to impress people from the MICE industry.
Выражаю благодарность компании Maxin Prague за блестяще проведенное вип мероприятие компании МТС. Отдельно хочется отметить менеджеров: Роксалану, Маргариту и Даниеля за высокий профессионализм, компетентность и ответственный подход к делу.Руководителю компании, Ярмиле, особая благодарность за гибкость в договорных отношениях и полный контроль организации.
First cooperation with Arval in October 2019 on teambuild for over 100 employees. Even in time pressure absolutely professional approach and organizing which ended up in great event, combining CSR activity, team entertainment, catering and evening party. Choice od place (church) just on top of that. thank you guys! Jiri Havel, Head of HR, ARVAL CZ
THANK YOU. It was a pleasure working with you.
Friendly, understanding, very helpful, professional and efficient staff! We had a group to Prague in 2018, and our clients were fully satisfied!Five stars!
Un partner muy valioso en la ciudad de Praga con quien trabajar en confianza.
I had the pleasure of working with Maxin Prague on one of our VIP events, for 90 people. The plans from my client were very last minute, yet Maxin helped me with all aspects of the project with patience and professionalism. The result was an outstanding event from start to finish, encompassing hotel accommodation, transfers, welcome, gala and farewell dinners with entertainment and production.I highly recommend Maxin to any event planner or event manager who is looking for quality of service and speed of execution with a very friendly approach.
We trusted Maxin with our Elite Event incentive trip to Prague (from the U.S. with almost 200 people) and they did not disappoint! After we provided the specs they went above and beyond to suggest and find the right venues and secure the supporting entertainment to make our trip special. The management team at Maxin takes great pride and puts in the time necessary to create something really unique. The difference is in the details. Thank you Maxin!
Maxin Prague supported our international meeting which attracted 100 key opinion leaders from all over the world and did not disappoint. They tended to every detail and were flexible and service oriented. We very much appreciated their ideas and all our customers were very happy. I would work with Maxin Prague again at anytime.
A great team of professionals who are always ready to assist, and face new challenges with a smile. There's no doubt about who to look for, when you have an event in Prague!
Thank you, Maxin Prague, for the outstanding event in 2018. I would certainly recommend the company.
We had a sales meeting last year in prague and chose Maxin to help us with the organisation of our event.Everything we ordered and discussed in advance with Maxin was as agreed.The restaurants and the activities were very good and well organised and despite some delays from our side (our workshop was longer than expected) we managed to do everything without stress.At one event it started to rain and we were equipped with raincoats, which i found very good.If you ever have to plan an event or activities for big groups you can rely on Maxin.
Kolegové z Maxin Prague pro nás zajistili kompletní organizaci velké mezinárodní konference ICPE 2013, takže jsme se mohli věnovat "pouze" odbornému programu. Organizace byla na naprosto špičkové úrovni a snad si mohu dovolit říci, že jsme navázali také nadstandardní osobní vztahy. Společnost Maxin Prague mohu vřele doporučit každému, kdo plánuje pořádání nějaké akce.
Profesionalita, skvělý servis, osobní přístup a spolehlivost. Eventová agentura Maxin Prague nám pomohla s organizací konference u přiležitosti oslav 25 let naší společnosti. Vše proběhlo hladce a bez sebemenšího zaváhání. Byli jsme maximálně spokojeni.
Proč Maxin PRAGUE? Protože maximálně upokojí potřeby všech zákazníků, od malých, až po velké a je jedno z jakého oboru zrovna jsou. Lidé z Maxinu nám maximálně vyšli vstříc ve všech našich požadavcích a dodali nám i něco na víc, což bylo přesně to, co dalo naší akci tu "pomyslnou třešničku na dortu".
I was looking for an incoming partner for a corporate VIP event with 60 guest in Prague. For that reason we have chosen Maxin Prague. It was the right decision. From the initial contacts, first quotations over the pre-site visit and the final completion of the project everithing went smooth and was a full sucess. For a next group we would not hesitate to work again with the team of Maxim Prague.
I have worked with Maxin Prague in 2018. We hired them for a very demanding three-days event. They are highly professional, efficient and stay always friendly - even in tough situations. I can only recommend to work with them. Katharina Albrecht-Stadler, TRIAD Berlin
Great service and flexibility! Maxin Prague has proven to be a very reliable partner for all our events in Czech Republic and Poland.They have a professional approach even on smaller events, well structured and able to meet changing needs.
Are you considering organizing an online or hybrid event? Let us know!